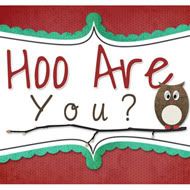 Hoo Are You is hosted by
Night Owl Crafting
. If you want to play along, just answer the following questions in a post and link up. Here are this week's questions:
1. What is your favorite thing cooked on the bbq? Corn on the cob
2. How do you celebrate Memorial Day? My son's birthday is always around Memorial Day so we have a party.
3. Do you like your handwriting? I do - I combine printing and cursive.
4. Do you still have your tonsils? Yes.
5. Do you untie your shoes when you take them off? I don't have many shoes that lace, but I think I do.