2014 BOOK CHALLENGE
Last year I tried the "Outdo Yourself Reading Challenge" and didn't even come close to outdoing myself. This year I'm going to be easier on myself and join the
Just For Fun Reading Challenge
. The challenge is to read 12 books for the year, one book per month. I'm hoping I can manage that.
The Middle Place by Kelly Corrigan

Bird in Hand by Christina Baker Kline

Angry Housewives Eating Bon Bons by Lorna Landvik

Swim Back to Me by Ann Packer

Driftwood Summer by Patti Callahan Henry

Lots of Candles, Plenty of Cake by Anna Quindlen

Jane Austen Ruined My Life by Beth Pattillo

Girls in White Dresses by Jennifer Close

Silver Girl by Elin Hildebrand

Anybody Out There? by Marian Keyes
2013 BOOK CHALLENGES
Brianna at
The Book Vixen
is hosting the Outdo Yourself Reading Challenge. This challenge is perfect for me. If you want to read more books in 2013 than you did in 2012, go ahead and sign up
here
. I read 24 books in 2012 and would like to read 28 in 2013. I'm on fire!! Wish me luck.
Strange Fits of Passion by Anita Shreve
The History of Love by Nicole Krauss
Between the Tides by Patti Callahan Henry
It's About Your Husband by Lauren Lipton
Summer Island by Kristin Hannah
The Secret Lives of Wives by Iris Krasnow
The Art of Keeping Secrets by Patti Callahan Henry
Bitter is the New Black by Jen Lancaster
The Days of Abandonment by Elena Ferrante
How To Save Your Own Life by Erica Jong
Clubbed to Death by Elaine Viets
An Accident in August by Laurence Cossé
The Memory of Water by Karen White
Love, Rosie by Cecelia Ahern
The Wedding Beat by Devan Sipher
Distant Shores by Kristin Hannah
The Three Weissmanns of Westport by Cathleen Schine
Mrs. Dalloway by Virginia Woolf
2012 BOOK CHALLENGES
Jen at
The Hopeful Librarian
is hosting the Unread Book Challenge 2012. I'm thrilled to participate since I have tons of unread books that I swore I would get to this year. The challenge is super simple: read the books that have been sitting in your TBR pile. Count every book you finish in 2012 that you own but haven't read yet. Here's the catch, though – books you add to the stack throughout 2012 count as part of your total of unread books. For more info and to sign up, click
here
.
Nantucket Nights by Elin Hilderbrand

Love the One You're With by Emily Griffin

One Fifth Avenue by Candace Bushnell

The Beach House by Jane Green

The Year of Fog by Michelle Richmond

The Castaways by Elin Hilderbrand

Life's A Beach by Claire Cook

Wife Goes On by Leslie Lehr

The Friday Night Knitting Club by Kate Jacobs

The Island by Elin Hilderbrand

That Old Cape Magic by Richard Russo

Fifty Shades of Grey by E.L. James

On This Day by Melody Carlson

Fifty Shades Darker by E.L. James

The Wildwater Walking Club by Claire Cook

The House on Oyster Creek by Heidi Jon Schmidt

Promise Not to Tell by Jennifer McMahon

What Remains by Carole Radziwill

Love in Mid Air by Kim Wright

Blue Water by A. Manette Ansay

The Opposite of Love by Julie Buxbaum

Happens Every Day by Isabel Gillies

Bride Island by Alexandra Enders

Before I Die by Jenny Downham
2011 BOOK CHALLENGES
I came across this challenge and decided to participate, especially since I've never read Anita Brookner and think I will enjoy her work immensely.
My Porch
is co-hosting
International Anita Brookner Day
. On July 16, Anita Brookner will turn 83 years old. By then, she will have published 24 novels in 30 years. For this challenge, read any one of Anita Brookner's novels by July 16, and then go back to My Porch to link up your review of the book or comment on what you thought of it.
I have so many unfulfilled challenges at this point, but I'm going to read
The Debut
for this one.
______________________________________________________
Gabriel at
Gabriel Reads
is hosting the Books I Should Have Read by Now Challenge. Gabriel is challenging himself to read 2 classic books per month between June 1 - December 31, 2011. The books you choose don't
have
to be classics, but they do have to be books that you own that you should have read by now. Any of those tomes that are collecting dust on your shelf are free game. For more info on the rules, click
here
.
I'm partaking in the "Casual Reader" category to read 1 book per month. Here's the list I hope to accomplish:
One Hundred Years of Solitude
by Gabriel Garcia Marquez
The Bell Jar by Sylvia Plath
A Million Little Pieces by James Frey
The House of Mirth by Edith Wharton
The Namesake by Jhumpa Lahiri
Love in the Time of Cholera by Gabriel Garcia Marquez
Here on Earth by Alice Hoffman
___________________________________________________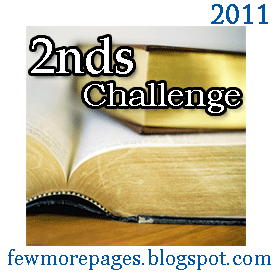 Katy at
A Few More Pages
is hosting 2nds Challenge 2011. Since I'm already participating in a few other challenges, this one actually fits in with them so I figured why not.
The gist of this challenge is to read another book by an author you have previously read. This could be the second in a series or just the second time you're giving this author another read. You have until December 31 to accomplish this challenge. For more on the guidelines and to link up, click here.
I think I'm going to partake in the Just a Spoonful level and read 3 novels that fit this criteria:
An Object of Beauty by Steve Martin
Lucky by Alice Sebold
The Double Bind by Chris Bohjalian
____________________________________________________
Here's a fantastic reading challenge for the month of April. Uniflames Creates is hosting an
Autism Awareness Reading Challenge
. Since April is Autism Awareness Month, she wants to make more people aware of autism and decided to host this reading challenge.
The challenge runs from April 1 through April 30 and you only need to read one book that has to do with autism. Find out more on the rules along with some reading suggestions
here
.
For this challenge, I am reading
A Pebble to Polish
by Janet Lord Leszl.
I'm excited to say that I've taken on another challenge as well. Why not? This one is the Spring Reading Thing hosted by Katrina at
Callapidder Days
and I hope I can accomplish this challenge since I can set my own pace.
It runs from March 20 - June 20 and here's my (un)realistic list of books that I plan to read during that time period:
Outtakes From A Marriage by Ann Leary
An Object of Beauty by Steve Martin
An Italian Affair by Laura Fraser
Falling Man by Don DeLillo
I love to read and am participating in a
reading challenge
this year. I KNOW I won't read 100 books by the end of the year and will be pleased if I actually read more than 12, but I always believe in aiming high. Here's a list of every book I've read to date in 2011:
Waiting to Surface by Emily Listfield
Rococo by Adriana Trigiani
The Great Pretender by Millenia Black
The Tea House on Mulberry Street by Sharon Owens
The Beauty of the Husband by Anne Carson
Outtakes from a Marriage by Ann Leary
Falling Man by Don DeLillo
A Pebble to Polish by Janet Lord Leszl
An Object of Beauty by Steve Martin
An Italian Affair by Laura Fraser
The Double Bind by Chris Bohjalian
The Debut by Anita Brookner
Love in the Time of Cholera by Gabriel Garcia Marquez
Lucky by Alice Sebold
Here on Earth by Alice Hoffman
A Million Little Pieces by James Frey
The Bell Jar by Sylvia Plath
The House of Mirth by Edith WhartonA